Brooklyn Resume Studio is a resume writing company that composes resumes and custom branded marketing materials. The company has expertise in providing top-quality executive resumes and career transition, which is why it has partnered with numerous clients across various industries.
To understand the company and how it offers its services, we conducted Brooklyn Resume Studio reviews and found both positive and negative revelations. Almost all the reviews on the company's website were positive, but those on external sites were negative.
More importantly, our independent reviews led to positive and negative outcomes, as explained hereunder.

Brooklyn Resume Studio Review
Special Features
The company's website is user friendly, and you can easily navigate between pages without any problems. At the bottom of the homepage, the company provides its clients with a monthly newsletter.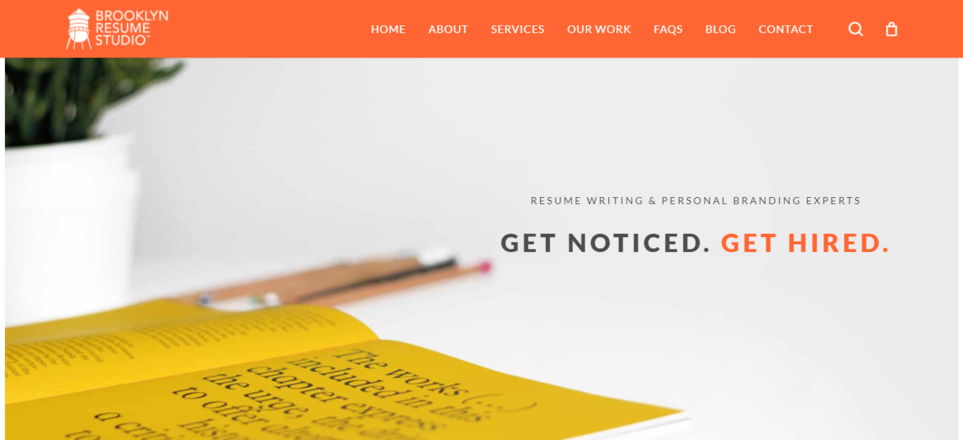 The newsletter educates the clients on matters regarding careers. To get the newsletter, you'll have to sign up with the company. Subscribing for the newsletter is straightforward; you only enter your email address and click the signup button.
We signed up for the newsletter, and we were impressed with their fast process. Within seconds, we received their email requesting us to confirm our subscription. So, the registration process for the newsletter is straightforward. We went ahead to establish whether clients received the newspaper monthly.
Besides the newsletter, the company doesn't have any other special feature that distinguishes it from its competitors.
Services Offered
The company provides three main services: resume writing & brand development, career & interview coaching, headshots, and branded design services.
Here is a review of their services.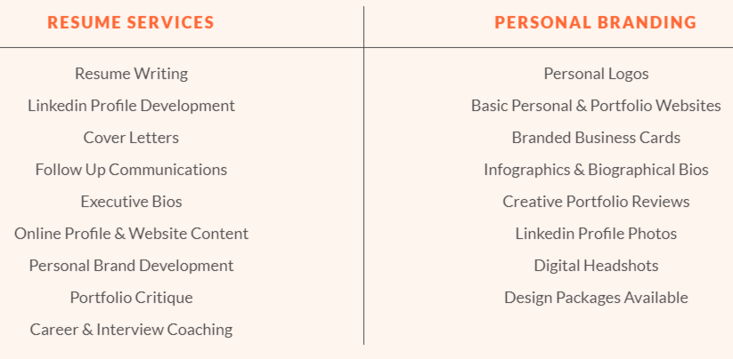 On their site, it's stated that the company provides optimized resume services, cover letters, and LinkedIn profiles. The company promises to create a professional portfolio that would market your attributes to hiring managers.
We contacted the company to understand how they optimized the resumes and cover letters. After getting a convincing explanation, we ordered a resume writing service to ascertain whether they really practiced what they said. Shockingly, they delivered an ordinary resume that wasn't ATS (Applicant Tracking System) compliant. They didn't even include a single keyword for the role we were applying for.
Regarding cover letters, they promise to create an effective letter that showcases your skills and experiences. However, when we requested this service, we discovered that their cover letters are not professional. Our findings corroborated customers' complaints regarding these letters. They delivered a poorly formatted letter with several typos.
The company offers coaching services to job seekers to enlighten them on matters regarding interviews and salary negotiation. The coach takes one hour and is conducted via phone or video conference. On their website, the company has stated that coaching is available in a single or a 3-session package without providing the price for the service.
On Headshots & Branded Design Services, the company offers a wide range of services, such as adding a professional photo to your LinkedIn profile, creating business cards and website logos. We randomly surveyed some of the company's clients to get their views regarding the branded design services. We established that although the company delayed delivering timely services, their business cards were professionally designed.
Work sample: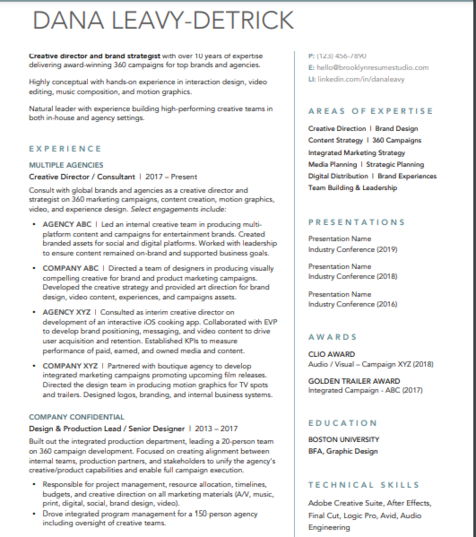 Prices and Discounts
Brooklyn Resume Studio prices on various services are not clear. The only information available on their website is that they charge an hourly rate of $175 for resume services. Therefore, the cost for other services, such as cover letters, branding, and coaching,  is not provided.
On discounts, Brooklynresumestudio.com provides a 10% discount to only the retired members of the US military. It is not clear whether other customers are provided with the discounts. Additionally, their rate of discount is lower than those of other resume service providers.
With this company, you must pay in full to schedule an appointment. You can pay using any major credit or debit card via our secure checkout system.
As opposed to other resume writing providers, all Resume Writing and Coaching packages are valid for six months, starting from the initial payment. All calls, drafts, feedback, and revisions must be done within this timeline. After the initial six-month period ends, you will be charged again.
Customer Service
To order for their service, you should fill in the client intake form with personal details, location, current job title, and target industry. Unlike other companies, their form doesn't have options for discounts and package specifications. Therefore, you'll have to contact customer service agents if you want to get clarity on pricing.
For any general inquiries, you are supposed to contact them via email. We wanted to know how responsive they are to customer inquiries. We interviewed some of their past clients and found that they either delayed or failed to respond to clients' inquiries. To confirm whether the clients' complaints were genuine, we sent them an email inquiring about their pricing and discounts. Sadly, it took one full week to get the feedback. This confirmed their low level of customer service.
Authors bio: Isabelle Walden is an experienced HR and career development expert. She has been working in this field for over 8 years. Isabella is well acquainted with what requirements companies usually put forward when searching for employees and which resumes will help job seeker quickly find a job.