Uk.Careersbooster.com is a company that aids people with finishing their application. Their range of services includes everything from a CV to a follow-up letter. The website is enriched with some quality samples that show the products the company offers their customers. From what we learned from reading reviews from their satisfied customers, the service is exactly as it looks like in the samples.
This resume service works with certified, UK CV writers and experts. The number of experts is a little over 70, a number which points out that UK Careers Booster has a detailed hiring process and works with a limited number of experts to be able to track their work and progress.
Until this point, our experience with the resume service was extremely positive. However, to finally determine if their service is good, we took a closer look at their offers and reputation.
Uk.CareersBooster.com Review
Special Features
In addition to the regular, individual cv services, Uk CareersBooster has packages that allow customers to save 35% on their order. You can select to either buy an individual cv from the service or a package that includes more than one product or service.
Once you receive the order from the service, you have 24 hours to ask for a free revision. Based on testimonials, this is a guarantee that the company respects and delivers on when needed. Moreover, they guarantee to rewrite your order if you don't get an interview invitation within 30 days from receiving the products.
Services Offered
There are plenty of services that Careersbooster UK offers. You can select between a cv, cover letter, LinkedIn profile, thank you letter, follow-up letter, etc. The packages that combine these products come at discounted rates.
The most popular packages offered by this company are:
CV+ cover letter + LinkedIn profile
CV+ cover letter
CV+ cover letter + follow-up letter+ thank-you letter
In addition to these popular services, customers can save up to 35% on the other packages:
15% on a CV+ LinkedIn profile package
20% on a CV+ LinkedIn profile + cover letter+ follow-up letter package
15% on a resume + cover letter package
20% on a resume+ cover letter+ thank you or follow up letter package
15% on resume+ LinkedIn profile package
35% on resume+ LinkedIn profile+ cover letter package

Prices and Discounts
Because of the high reputation and the grand list of different resume services, we assumed that this is a high priced service. Ordering an individual product might cost you more, but the packages make for an excellent deal, far better than most popular companies often offer.
Packages begin at a rate of £99 and range up to £139 for a package. For example, the package that contains a CV and a cover letter is priced only £99, while the biggest package with added 35% discount on it comes to a price of £139.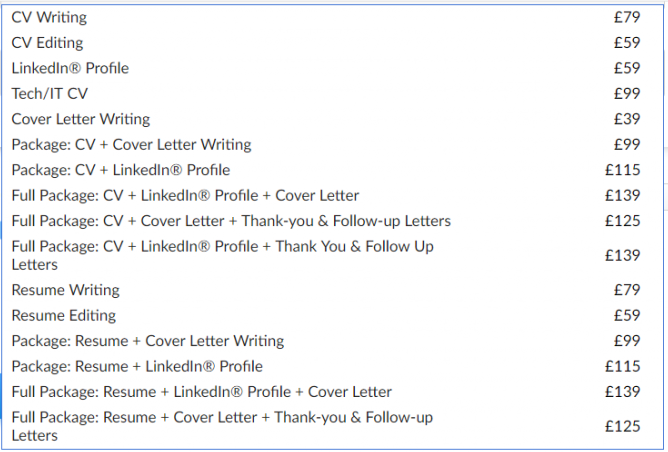 Except for the discounts that apply to packages, there are no other discounts. It is unusual for resume companies to give discounts for regular customers because their goal is to make customers land a job, meaning that they would rarely need to return to the service for another application again.
Customer Service
This is probably the best thing that differentiates this service from other companies on the same market. The customer service is available whenever you need it, and you have a live chat to contact them on. This makes it possible for you to get information, as well as ask for a free revision within the first 24 hours from receiving the order.
The customer support is known to be very effective in doing their job and based on what their customers say, they respond to revision requests fast and professionally.
The big services range, grand discounts on packages, and customer support you can trust make a great combination for customers who need assistance with their job application. You can order anything you need from uk.careersbooster.com at an affordable rate as long as you select one of the well-priced packages and if you don't like it, they have numerous guarantees in place that help you ensure that you are making a smart investment. Overall, this company is worth the money you pay for resume help, which is why it is so highly ranked on the CV writing market.
Sample