While the online world is filled with American, British, or Australian resume writing services, we must say the there are only a few Canadian resume writing companies out there. Today, we would do a detailed Resume Target review which is a Canadian company specializing in resume writing services. Amos Tayts oversees all the works of the company as he is the founder and president of the company. He has been controlling the company with iron fists since 1999. So, there is no doubt that they have plenty of experience with what they do.
But are they good enough and worth your time and money? That's what we would find out today!
Special Features
We looked too hard, talked to their customer support executives' multiple times, but couldn't find any single feature that we can call special! We guess their specialty would being mediocre or average. Even their resume quality doesn't strike as one compelling – it looks rather "pale"!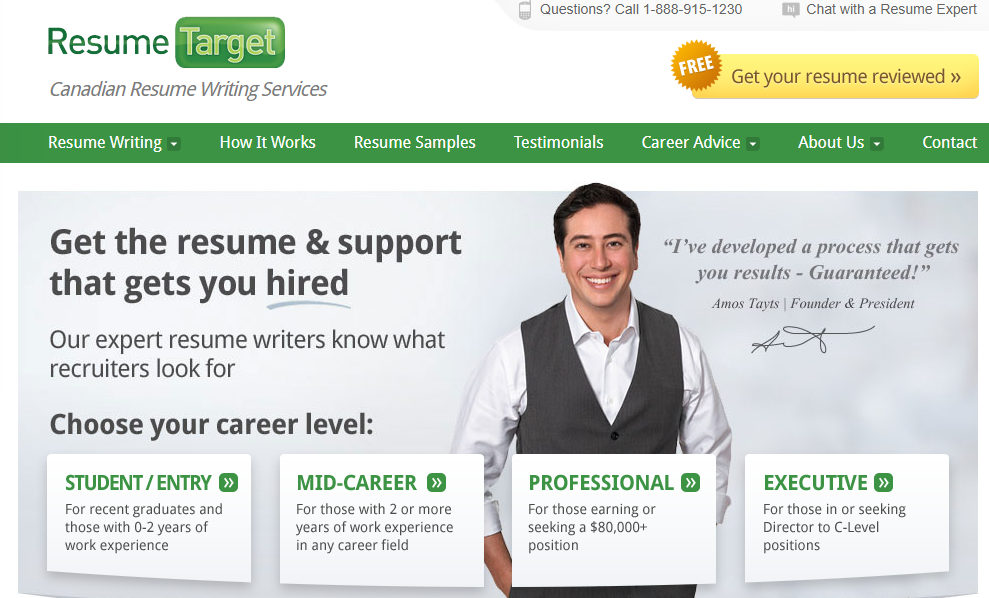 You can check the resume samples in their website. The samples even look too black and white, nothing stands out, nothing looks too special!
Services Offered
As their company name suggests, they are mainly proud of their resume writing services. Primarily they offer resume writing service to four tiers of clients:
Freshers or students who are just about start professional career
Mid-career professionals with 2+ years of working experience
Seasoned professional seeking lucrative jobs with $80,000+ annual salary
Executives and C-level professionals, the sharks of the corporate world
Apart from creating fresh, new resumes they can take care of the resume editing or resume "refreshing" process too. Also, you can get cover letters, LinkedIn services and career coaching.
If you ask us, we wouldn't say that we were super impressed with range of services as they don't offer anything extraordinary. Almost all the resume writing companies can help you with these services. You should check out other resume target reviews to see their thoughts.
The question is can they do these activities better than others?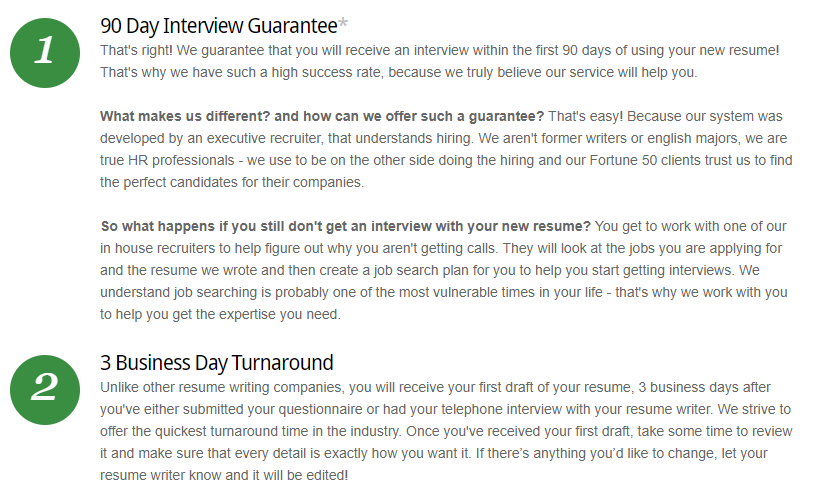 Sadly no! They are like any other average companies. When testing their service, we noticed that their resumes were looking a bit pale as it were a listicle of the experiences and qualifications. There are a lot of modern resume templates that focus on the graphical representation of the skills and qualifications. These modern designs are now the best options for the freshers. So, the negative point of their services is that they are still practicing the older-traditional formats while the world has already entered the future!
Resume Target resume sample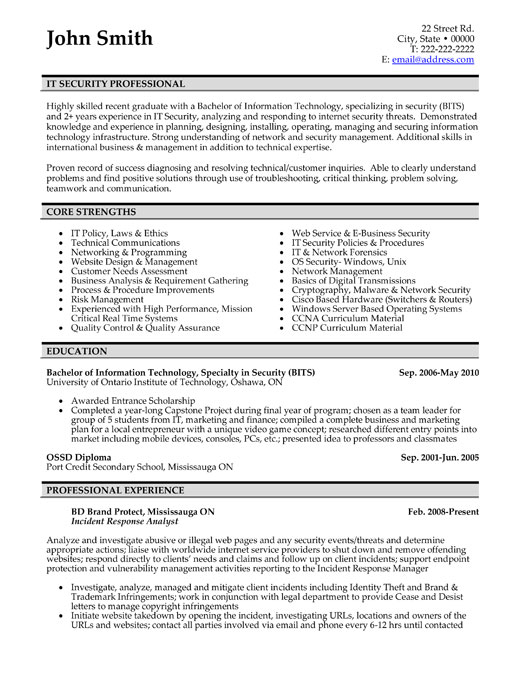 Pricing and Discounts
Okay let's discuss the pricing and discounts. We know a lot of you are often concerned about the pricing as no second person has the same financial capabilities. The good news is that their pricing is more on the reasonable side. However, you cannot call it cheap in any ways.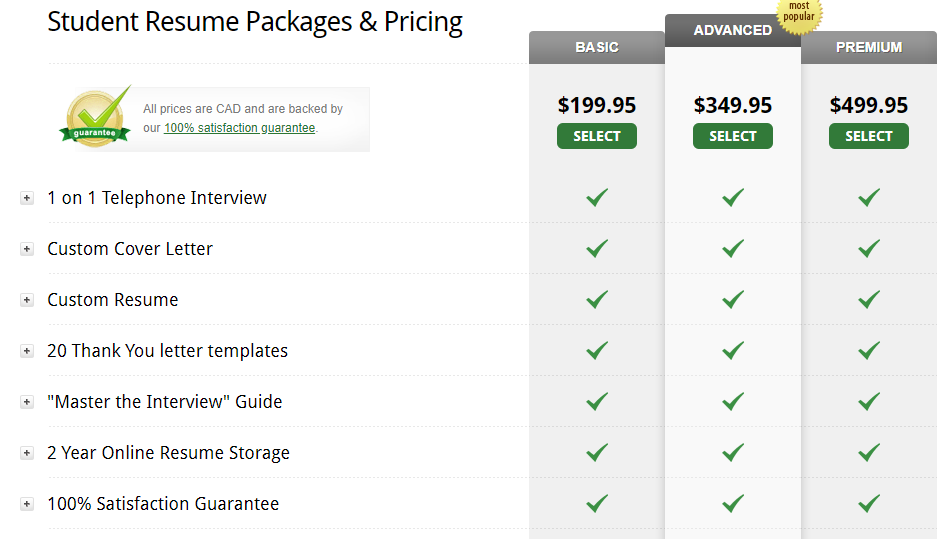 For example, even an entry level resume can cost about $500! A lot of other companies can help you with a resume within a $200 budget. Well, the good news is that the cover letter and LinkedIn profile retouching is included in the pricing policy. On the higher side, an executive level resume would cost you about $850.
You can check the detailed pricing policy on their website. However, they should add a chart or a list so that a potential customer can check and compare the pricing of all the packages. We think it would be better for their business as well as it would introduce transparency and simplicity.
You might be wondering about the discount policies and whether you can redeem any coupon code, right? Sadly, resumetarget doesn't offer any kinds of discount. The only thing you can get is to get you available resume reviewed for free by their experts.
Customer Service
Yes, they have all the modern approaches to help out the customers. You can call them, chat with them or even send a detailed email with all your thoughts and opinions. That is not the main issue that we want to talk about.
We strongly believe, they should be a bit more friendly and open to the opinions of the customers. We know Canadians are celebrated for the humbleness and friendly behavior.
Sadly, we saw a different picture while talking the customer support. As we weren't quite happy with the quality of the resume, we wanted to make changes. They said they cannot make changes as they believe the resume is "great and perfect." Such harsh behavior is quite unexpected from a reputable company.
How to get a refund from resumetarget? It is only possible if you cancel an order within 24 hours or give unsatisfactory feedback within 30 days. However, their customer service team would look into the matter and pass judgement.
Website usability
Resume Target has an average looking website. There is nothing too special about the site. Their website doesn't strike as a creative one as the website sis full chunks or words and it is quite hard to focus on all these words. We would like to suggest them to use less words and focus on bringing attention of the clients to the main and interesting points with graphical representation. All the modern websites are practicing that culture. It would be a lot better to attract the millennials with modern designs and UI.
Summary
The bottom line is that Resumetarget.ca is a fairly average service. There is nothing that we can truly call a specialty about them. The quality, pricing, features are all mediocre. You could try taking their service but there are a lot of companies who can offer you a better service at this price point.
Authors bio: Isabelle Walden is an experienced HR and career development expert. She has been working in this field for over 8 years. Isabella is well acquainted with what requirements companies usually put forward when searching for employees and which resumes will help job seeker quickly find a job.