Purplecv.co.uk is one of those writing companies that focus on applications. This makes it a place to order resumes from, as well as some other essentials like cover letters and LinkedIn profiles. As such, it hasn't succeeded much on its market, mostly because of the steep rates and what seems to be average resume quality.
However, we decided not to judge them too fast. Before we established a final opinion, we proceeded by checking out their features, services, pricing and customer service. Read our purplecv.co.uk review to learn more.
Special Features
Purplecv.co.uk has a very helpful and useful blog if you want to learn more about resumes and the writing processes connected to it. However, it doesn't have any sample of a resume, so you can't know what your order will be like unless you proceed and make it.
Under the name 'accessories', you can find some paid features that are optional. An express service that lets you receive any order within a day and includes a social media profile costs £20.00. A cover letter has the same pricing, while Purplecv also offers to print out resumes and send them to your address at a given cost.
Services Offered
The number of services was disappointing. Purple CV is different from resume services we've reviewed in the sense that they have much less to offer. Basically, all offers come under four key categories which combine an individual CV writing service or a package. These categories are based on the years of experience the applicant has, with the pricing growing bigger the more you have to add to the resume.
For example, the cheapest you can pay is for an early career resume, which you are eligible to get if you have zero to three years' experience. If you need a specialist's CV for a specific niche, the pricing is much, much higher and indicates a difference that is probably the reason why people say this is an expensive resume service in the first place.
The most disappointing thing about the services is that these are the only three things you can get. So, no follow up letter, interview assistance, or any other thing you might need for your application. Purplecv focuses on these three services only, which limits customers a lot.
Prices and Discounts
Getting a CV only is not highly priced, but a package is much more expensive, even though they give a discount if you order one. For example, £25 for an early career CV is not at all expensive when you compare this price to other companies' pricing, but the package with a cover letter and LinkedIn profile included is £70 with the discount. And this only applies to that early career option we mentioned.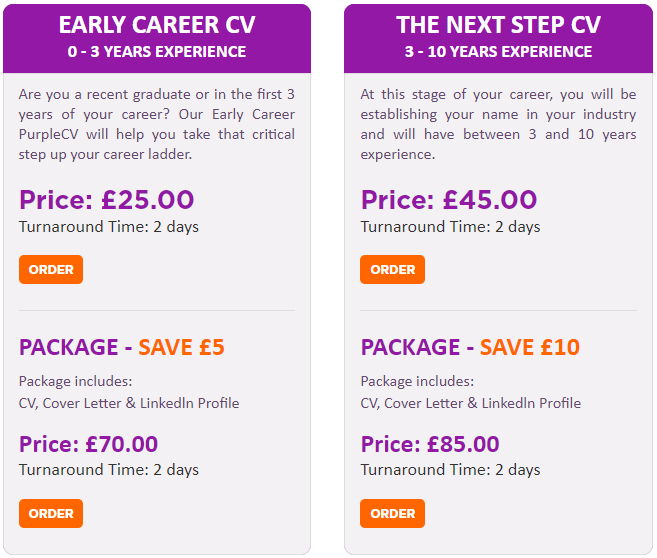 All other options are higher priced than this one, with the specialist CV coming at the very top. If you want such CV, only that order will cost you £175, and the package is more expensive by £20.
About discounts, there are none. And from what we saw in feedback from customers, this seems to be the case always, since no one ever mentioned getting a discount from Purple CV.
Website Usability
Website user interface is an integral factor when selecting any website or service to use. After all, who wants an overly complex experience when ordering a service through a website? Based on our purple cv review, we found their website to be fairly easy to use, save for some hiccups. We believe that the site can be improved to offer a more reliable UI to the visitors.
Most purple cv reviews also attest to the ease of using the site but still urge them to improve further to make it more friendly.
Our brief overview of the website shows that they have a list of CV writing services on their homepage, together with customer service numbers that you can use to reach them whenever you're stuck. The homepage also has a live chat button that you can exhaust before opting to contact the customer service via text or call. A quick test on this live chat function gave us an instant response to a customer service agent. This goes to show how much they value customer service.
There are also different payment gateways available on their site so that you can make an order flexibly. Some of the options on the table include PayPal, Google Pay, Apple Pay, Visa, Stripe, and American Express, among others.
Navigation through the site is rather easy and straightforward. This ensures that you get what you're looking for easily.
The only challenge we saw while checking out the Purplecv reviews in regards to the website usability is that the homepage has excessive text, which can be confusing to the customer. And this is something that we too agree with.
Customer Service
The customer service is one of the few good things we found about this resume company. They have a customer service that's always available to help the customers and interested buyers and in our experience, it is professional and well established. With the live chat, people can reach them fast and without any cost.
Still, the resume package we ordered for an advanced career applicant with experience of 10 years or more cost us a lot and wasn't really great. The resume lacked some of the most important information, while it contained some completely irrelevant information, and was poorly formatted to begin with. The LinkedIn profile was almost empty and they only seemed to have copied the resume in the empty fields, which can be done in minutes. And finally, the cover letter was obviously a template because we could use it for any job – it was that generalized!
The point here is, the customer service did nothing to fix this. Apparently, they deliver the order days later unless you pay for that extra feature and they don't guarantee anything. If you don't like it, they don't have the freedom to accept a revision request, so we ended up having to pay for the poorly crafted resume package after all.
Authors bio: Isabelle Walden is an experienced HR and career development expert. She has been working in this field for over eight years. Isabella knows the exact requirements companies usually put forward when searching for employees, and which resumes will help job seeker quickly find a job.