DragonResume.com is a professional resume writing service with a nice presentation website. On the home page of dragon resume there is a bold statement saying that once you get your resume through them you will guaranteed obtain a job interview. This is quite a bold statement, because who can actually guarantee that your resume will be picked by an HR officer? We also could not find too many genuine positive reviews online regarding this service. This is why we decided to go into the deepest details and find out what this service is truly about.
Site overview
The main website looks professional, but quite simplistic. There is not too much valuable information available regarding their services, the academic background of the writers and other details. In this Dragon Resume review we can further disclose to you that they offer a free and confidential evaluation of your resume. This evaluation is performed by a professional executive resume writer. We are not fully convinced this evaluation is indeed performed by a specialist. Nowhere on the website is there any presentation of the resume writing specialists. In our opinion job seekers need to be assured that their Resume or Cover letter is put together by someone knowledgeable and experienced.
Special features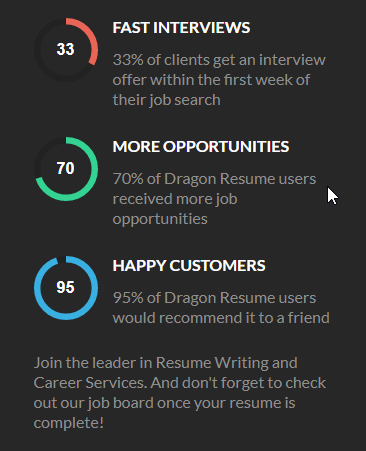 This company does not offer any special deals or extra features. The entire presentation of their services is very plain, accompanied by poor presentation text. As we scrolled down on the home page, we came across a few reinforcing statistics. According to their internal calculations, they have reached the following conclusions:
Up to 33% of their customers actually get an interview in the first week of their application

Up to 95% of their customers are satisfied with their services and they would recommend this service to friends and acquaintances

Up to 70% of their customers received more job opportunities
These are statements made by them, so we do not necessarily consider these to be true. Any professional writing service can put on their website whatever they wish. Therefore, we do not consider these statistics as something that customers could use as guiding tools.
Services Offered
Dragonresume has a separate section dedicated to the services offered. There are 4 different packages that you can choose from, or you can select individual services. The packages include written resumes, cover letter writing, 1-on-1 resume strategic consultation or LinkedIn development. Some of their services are vague in description, because when they say LinkedIn development that does not necessarily mean they will write the page for you. It means you will have to pay separately for writing a social media page.
Their individual services include:
Telephone resume strategy session

Quality custom written cover letter

Profile design for LinkedIn page

Career Coaching for 1 month

Hidden Job market coaching
Prices and Discounts
When a customer lands on a writing services page, he will first check the prices charged. Many job seekers are on a budget, so they wish to know the exact cost of the services provided. The prices charged by this company are quite expensive and many reviews of dragon resume complain about this fact. Prices start at $149 for the base package that includes only a resume writing optimized for today's technology. The next package that includes a resume and a cover letter already costs $499.
Their most expensive service package costs $995 which is an outrageous price to pay for someone who is actually looking for a job. This package contains resume writing, cover letter writing, career coaching and some other irrelevant services.
Regarding discounts, we could not find any dragon resume promo code that customers could use to save some money on their order.
Customer service

Their customer service section is not overly impressive. There is only an email address that you can find at the bottom of the page. No phone number, no instant chat and no toll free calls. Customers have to wait for days until their emails will get an answer. Also, customers who need urgent help with a resume edit or cover letter writing cannot benefit of their services. They do not have a reliable customer service, and this ruins the entire concept of the online business.
Website usability
Regarding website usability, we can tell that the pages load well, but there is ambiguous information available. In the packages offered section they offer some irrelevant solutions that customers may not understand. For example "optimized for today's technology" is not a real service. It is a requirement for today's technology. All documents should be visible across all devices and you do not have to pay separately for this.
Summary
Some of the facts that speak in favor of choosing this company include the professional look of the website and the variety of the packages offered. Other than that, even some genuine dragon resume reviews discuss the cons which include:
Poor customer service

Expensive prices

Ambiguous services offered

No price calculator
If you need a reliable and trustworthy resume writing service you should keep searching. There are many top reputable services available which offer indeed good value for your money.
Authors bio: Isabelle Walden is an experienced HR and career development expert. She has been working in this field for over 8 years. Isabella is well acquainted with what requirements companies usually put forward when searching for employees and which resumes will help job seeker quickly find a job.