Interestingly, resumeble.com chose to say that with their resumes, people get twice the number of interview calls than without them. This is something very strange to promise because the situations are different for all applicants and yet, that's what you can find on the website.
From what others say, only a few agree with such statements. Apparently, Resumeble doesn't deliver as great a resumes as they say. And while their reputation isn't terrible, it is more of average popularity than the best resume service as they claim to be.
Special Features
To kick start this resumeble review, we will look at some of the special features that you can find on this website. The first one is a weekly blog section that gives clients various insights and assistance. Most of them are very much informative and entertaining. Thus, even if you didn't visit the website to make an order, you will still gain some valuable expertise.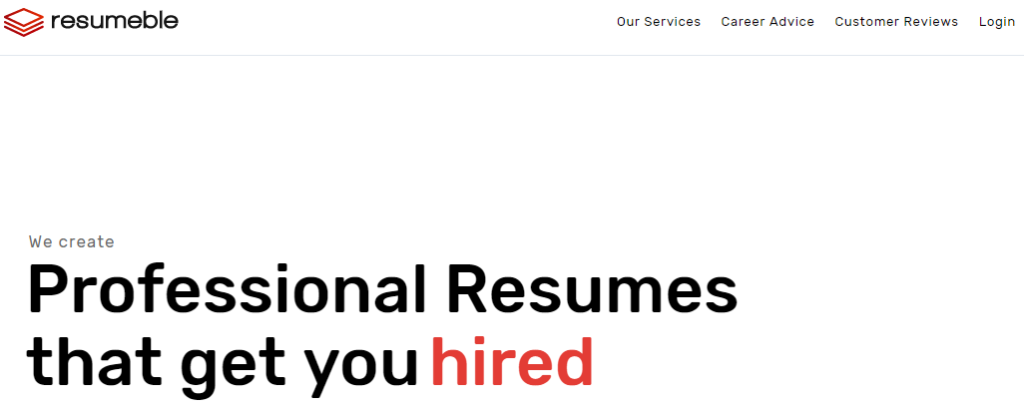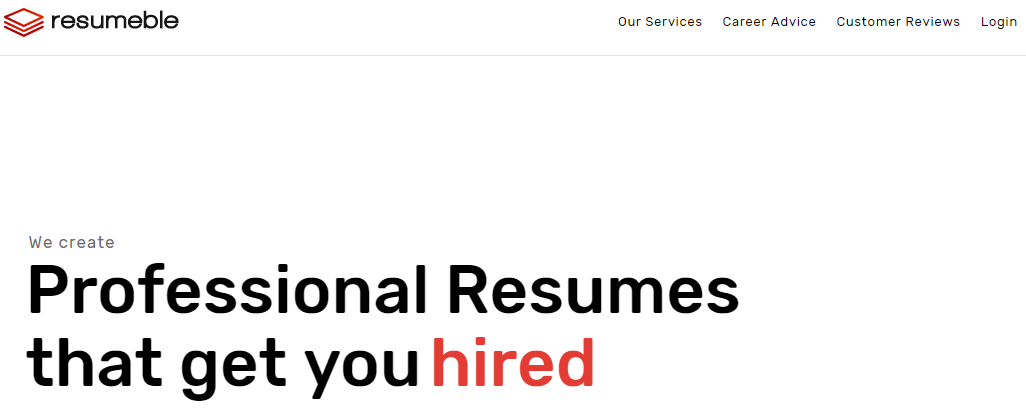 There are also several service packages offered here for you to choose from. Some of the service packages include career pro, professional, and premium.
Services Offered
The services and pricing offered by this website seem to be quite reasonable. As we have hinted above, they have three main service packages for you to choose from. The three include:
Career Pro
Under career pro, you get a cover letter writing and a professional resume. Both come at $149 as at the time of this writing.
Professional
For the professional package, you get a LinkedIn write-up on top of a professional resume and cover letter. All of this comes at just $229 as at the time of this writing.
Premium
Lastly, the premium package offers the services available in the career pro and professional package. But it doesn't just end there – because what then would be the need to pay for premium?
Additional services in this package include a second resume version, thank you/follow-up note, and a cold email to the recruiters. All of these services come at $339 as at the time of this writing.
Prices and Discount
Pricing is very important, especially when you're just starting your career. You probably don't have a huge budget to splash around – all in the name of creating a CV and LinkedIn profile.
It is for this reason that one needs to get an affordable service. When we chose to review resumeble, we were also curious about their pricing. After some research into their packages and pricing, we can confidently say that they are quite affordable. When you compare them to other high-caliber resume writing companies, you will immediately notice that they offer clients a fair bargain.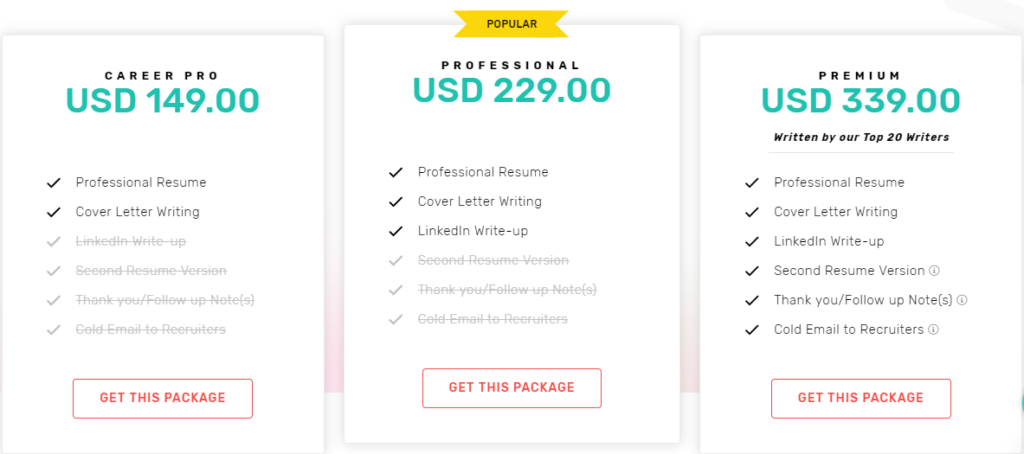 In regards to discounts, Resumeble does offer price cuts to its customers. Once you get a promo code, you can use it during check-out and save some extra bucks. Whether you're a new client or a long-term one, resume writing company resumeble has something for you.
Customer Service
If there's one thing that makes or breaks any business/company, then it is customer service. Nobody would want to hire a firm with rude staff or delayed response times. And this is even more critical for a resume writing company.
Resumeble has a competent customer service team that is always ready to respond to your questions 24/7. They engage clients professionally and in a friendly manner during the ordering process. Thereafter, they keep you updated with what's going on throughout the entire process.
With Resumeble, you can even gain direct access to your writer and discuss the nitty gritty details you want featured in the resume. You can, therefore, rest assured that your needs will be met when you make an order through Resumeble.
Website Usability
Website user interface is where most companies go wrong and disappoint their clientele. The UI of a website like this needs to be very simple and easy to use. Most reviews resumeble state that the website is quite simple and straightforward. We even saw it for ourselves when we gave it a try.
On the homepage, you can easily see what they offer in terms of the packages and their pricing. Also, you can upload your resume and get free analysis within 48 hours. The analysis will include an ATS score and insights, together with a free resumeble expert review. This will help you to get tailored recommendations on how you can improve your resume, and equally see how your resume compares to other similar ones in your industry.
On the homepage, you can also see their phone number so that you can reach them anytime when you have queries about the services offered. At the bottom of the page, you will find some pieces of advice on how to curate a resume or CV.
Generally, we can attest to the fact that their website is insightful, easy to use, and has all of the resources a client would require at their disposal.
Samples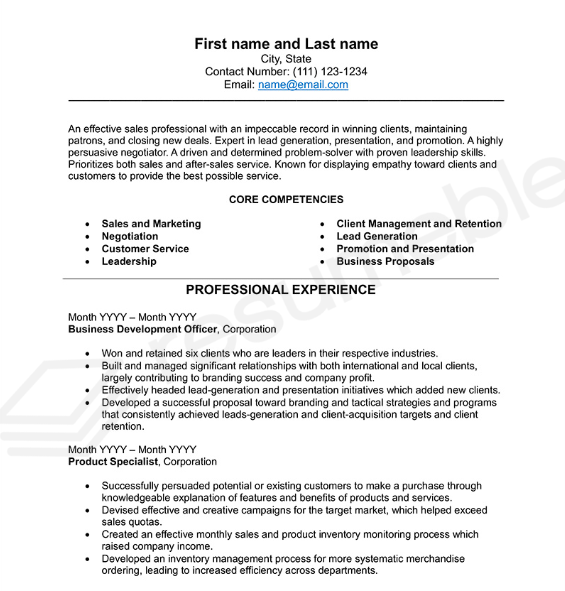 Summary
As we wind up this review on resumeble.com, we can confidently urge you to try out their services. Based on our review, we found them to not only be affordable, but also offer the right level of quality needed by professionals. Their customer service is also accessible and their website user-friendly.
Authors bio: Isabelle Walden is an experienced HR and career development expert. She has been working in this field for over eight years. Isabella knows the exact requirements companies usually put forward when searching for employees, and which resumes will help job seeker quickly find a job.