As you start exploring Executive Drafts, you see tons of useless text that doesn't tell you anything important about the service.
The claim that each resume is reviewed by a writer, recruiter and hiring manager sounds promising. First impressions are never enough, so we decided to examine the agency in detail.
Foundation year: 2014

Prices: From $249

Discounts: Coupon for 10% off

Deadline: Not precise, but it's more than a week

Guarantees: Consultation call, interview guarantee, no additional fees
Special Features
The phone consultation is a nice feature that not all resume services have. The customer can talk to the consultant about the job they want to get, discuss strengths and weaknesses, and identify the personal voice they want conveyed through the resume.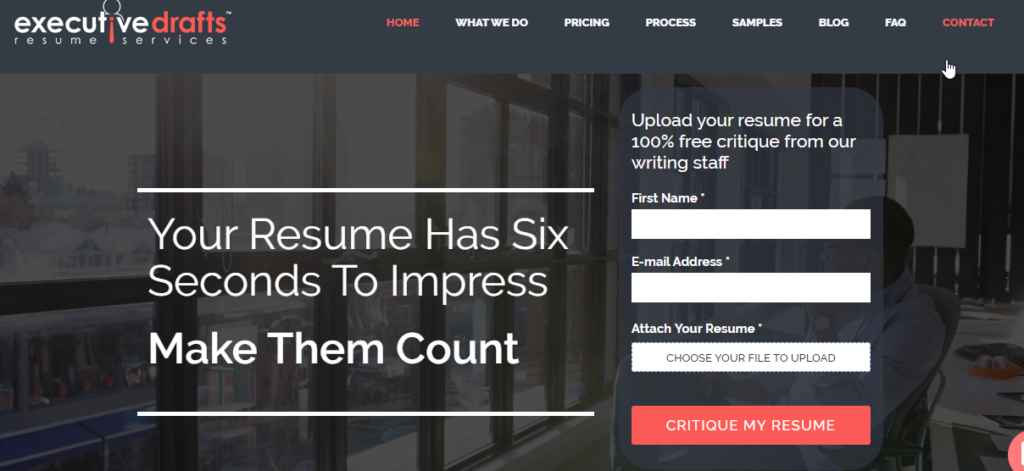 There are free samples at the website, but they are provided in an unreadable format (the resolution is low and you can't zoom in). After a lot of effort to read them, we realized they were too generic for the service to brag with them.
There are not many special features here. What bothered us the most is that the customer cannot set a deadline. The due date is not precise here. They say that resumes are usually ready in a week, but some take longer. How much longer? You never know.
Services Offered
The client can choose between three types of resumes, depending on their career level:
Associate

Professional

Executive
The Associate level is for job applicants with less than 5 years of work experience. It only includes a phone consultation and a resume delivered in more than one draft.
The Professional resume is completed by senior-level writers and includes complimentary touch-ups.
The Executive is a package, which includes a resume, interview coaching, cover letter, and salary negotiation help.
Executive Drafts does not deliver separate services for cover letter, CV, LinkedIn profile, thank-you/follow-up letters, and interview training. The list of services is brief and focused, but not in a good way. With a staff experienced in writing resumes, we wonder why the service won't expand its offer to include those simple products.
For those who want a resume and a cover letter but don't want to pay for Executive level, this company doesn't work. It's a shame, since both resumes and cover letters are simple products that any other service would be glad to deliver at any level.
Prices and Discounts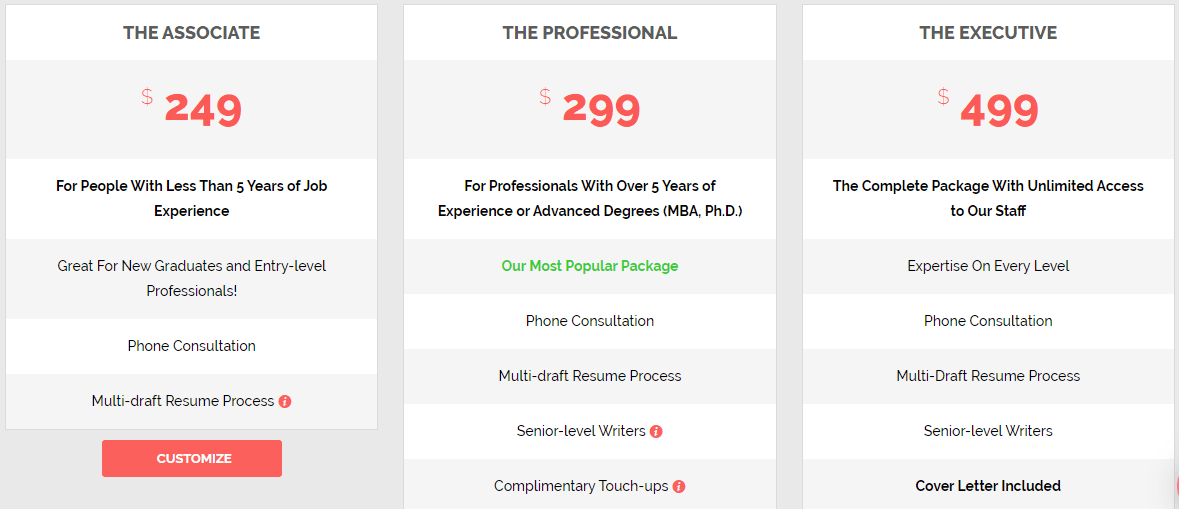 ExecutiveDrafts.com is expensive when compared to other services. The company emphasizes its reputation all the time. But when we checked Executive Drafts reviews across different websites, that reputation wasn't justified. Many of their customers complain about the expensive price and lack of "special" they get in their resumes.
An Associate resume costs $249. This is just an entry-level resume and nothing more. You don't get a cover letter in the package and you can't order it separately. That's an issue for most job applicants, since they need to submit both documents. Another issue is that you don't get free revisions with this order. The final draft is final.

The Professional resume costs $299. It's for professionals with more than 5 years of experience in their field. It's only a bit more expensive than the Associate resume, but it includes small revisions for two weeks after the final draft.

The Executive package is very expensive: $499. You pay for a resume and cover letter, but you get interview coaching as well. Isn't this weird? Executive candidates don't need much interview coaching; they already have experience. Associate-level candidates need this, but they don't get it.
Customer Service
We went through Reddit comments about this company and encountered a lot of negative talk about the customer support. That's because there is none. The live chat is just a bot. It doesn't give you any useful information; just answers to commonly asked questions.
We tried contacting the representatives several times and it didn't work.
Executive Drafts justifies this with the argument that the customers communicate with their writers. That's all fine, but a back-up system is necessary if any issues with the writers occur. If the customers complain about the lack of quality or generic resumes based on templates, they don't get any support. They try to sort out these issues with the writers, and that never works out well.
Website Usability
The website is okay. There's a lot of text that no one reads. It's just trying to convince you that it's the best service you could possibly hire. But we're so used to seeing this type of content on all websites that we know it's not always trustworthy.
The biggest issue is that you have to pay $99 extra for a quick turnaround of 2 days. This feature is not even available for the Executive level. They only deliver resumes, which can't take an entire week to complete. Let's be honest: professional writers can do better than that. If you need urgent and effective help writing a resume, this is not the right site to choose.
Summary
There are positive ExecutiveDrafts reviews on its website, but they are not believable. Independent reviews are mostly negative.
Pros:
Cons:
Expensive prices

Not many services available

No customer support
Authors bio: Isabelle Walden is an experienced HR and career development expert. She has been working in this field for over 8 years. Isabella is well acquainted with what requirements companies usually put forward when searching for employees and which resumes will help job seeker quickly find a job.