The headhunters around the world have lots of techniques for selecting and rejecting the massive amount of the applications. About 90% of the resumes get rejected after the first glance. The main reason behind that is wrong formatting and unprofessional tone.
The rest of the 10% then go through the one-minute scan. About 8% of the total count then get rejected in this phase. Improper keyword usage and bad self-showcasing is the reason for this rejections. Only 2% of glorified applicants get to the interview board.

ProResumeWritingServices.com Review
We think every single person will agree with the value of the great resume. But crafting a top-notch resume is a hard nut to crack. While a lot of people choose and instantly pay the online resume writing services, we don't support such behavior at all. You should always get a heads up on their services, features, pricing, and the customer support.
To help you with that course, we are reviewing ProResumeWritingServices.com today. Before jumping onto the detailed review, we would suggest you check out the review.
Overview
Foundation year: 2016
Prices: from $199
Discounts: Yes
Deadline: from 2 days
Guarantees: interview invitation guarantee
Special Features
A resume writing service that has only four professional resume writers with CPRW certification but have twenty years of experience – how does it sound like? Yes, we are talking about Pro Resume Writing Services, and it is the unique and intriguing feature of this writing service company.
The company will provide one-to-one personalized service to discuss your skills and expertise. The company also thrives to provide rush deliveries. Two of their four packages are rushed services. So, if you need a resume on an urgent notice, you could seek help from them. Even all of their services guarantees to deliver your resume within 48 hours.
So, this was all about their special features. But what about their services?
Services Offered
Pro Resume Writing Services has four different resume writing packages –
Resume
Resume (Rush)
Full Package
Full (Rush)
If you think about it, they basically serve two packages. The two rushed version offers the same features but delivers within 24 hours. The basic Resume package includes one professional resume, unlimited re-writing offer, e-mail and phone call support, and the promise of delivering the order within 48 hours.

On the other hand, the Full Package includes the same but offers a cover letter, interview thank you letter additionally.
Sadly, they don't offer any modern day services like LinkedIn profile tweaking, career suggestions, blogs, etc. They will not even offer the professional bio writing or CV writing. So, we could call this company to be devoted to writing resumes only.
To give you an honest review of their services, we tried out their Full package ourselves. They delivered the resume within two days as promised. But we were really disappointed with the quality. The resume looked like it was written for old offices about thirty years ago!
We mean, not everyone ages fifty years plus! There was no energy and no creativity. It looked like a boring list that has all the previous job history and the job descriptions of those jobs. To be frank this, backdated piece of paper cannot give you an interview call in this modern days.
Although, we liked the usage of the keywords and the plagiarism free writing. But the recruiters will reject your resume without even looking inside.
Resume Sample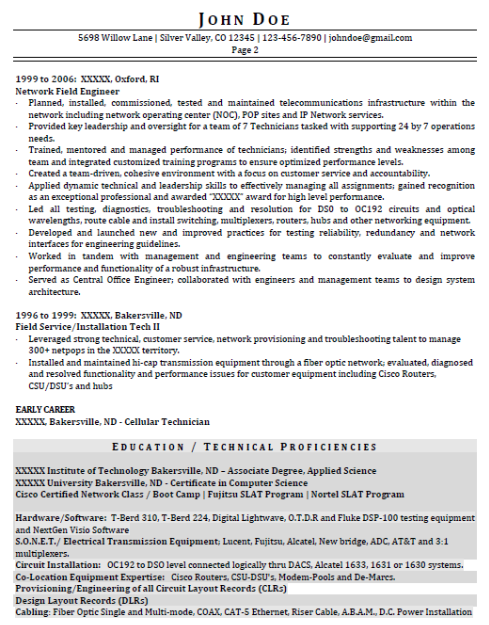 Prices and Discounts
There is only one thing we could tell you about this resume writing company – they are pricey. Yes, we get that their four writers are CPRW certified and have twenty years of experience. But charging $299 for the Full Package is way too much. If you choose their services, you will like dinosaurs compared to the other applicants.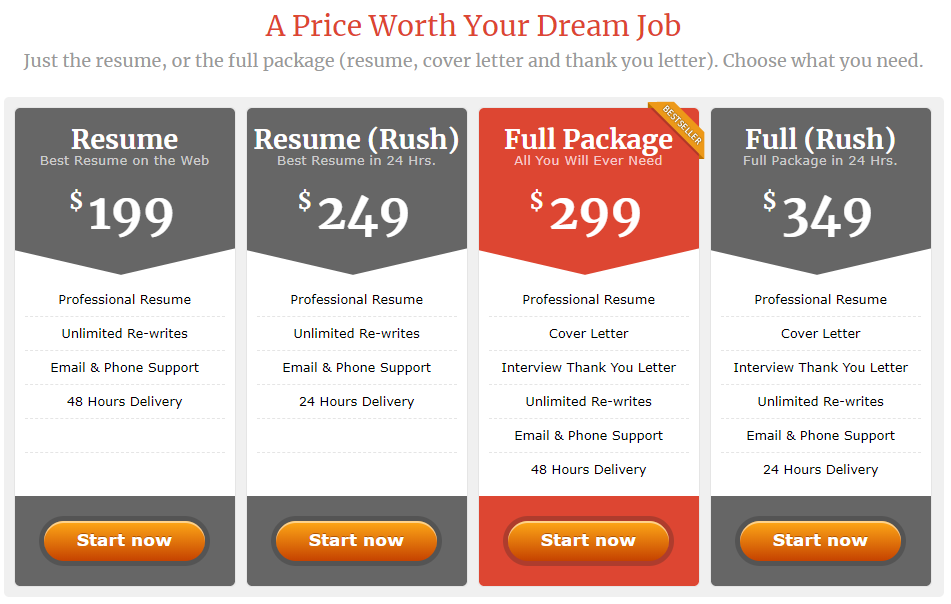 Here is the list of the pricing policies of ProResumeWritingServices:
Basic resume with unlimited revisions – $199
Basic resume with unlimited revisions rushed in 24 hours – $249
Basic resume with unlimited revisions + cover letter + thank you letter – $299
Basic resume with unlimited revisions + cover letter + thank you letter rushed in 24 hours – $349
Luckily, they have a first timer's discount available (while we tried the package and reviewed). They offer a flat 50% off if you are ordering a resume from them for the first time. We couldn't find any other discount coupons or whatsoever.
Customer Support
As we have said, the company is a bit backdated. They do offer 24/7 customer support, but you have to call them or send them e-mails. The funny thing is that we couldn't find any phone number to call them to inquire about some of the features. There is no arrangement of live chats. They surely have lousy customer support. They need step up and upgrade their system as well as their resume quality.
We cannot but give ProResumeWritingServices.com a rating better than 3 out of 10. They should try working on modernizing their services and features.
Authors bio: Isabelle Walden is an experienced HR and career development expert. She has been working in this field for over eight years. Isabella knows the exact requirements companies usually put forward when searching for employees, and which resumes will help job seeker quickly find a job.