Rezoome (or Reszoome as we found it differently spelled) is an aspiring writing service that attracts attention with quite a few logos at its website. It's a member of the Professional
Association of Resume Writers, the National Resume Writers' Association, and the International Association of Employment websites. Through our experience reviewing different services, we learned that these memberships don't mean anything. They don't reflect the quality of a service.
Foundation year: 2013
Prices: From $99
Discounts: Occasional Rezoome Groupon deals
Deadline: 5-7 business days
Guarantees: Satisfaction guarantee (if you don't like the resume, they will review it)
Special Features
The 60-day interview guarantee is considered a special feature here. It only comes in the more expensive packages. For example, you don't get it with the Professional Federal Resume.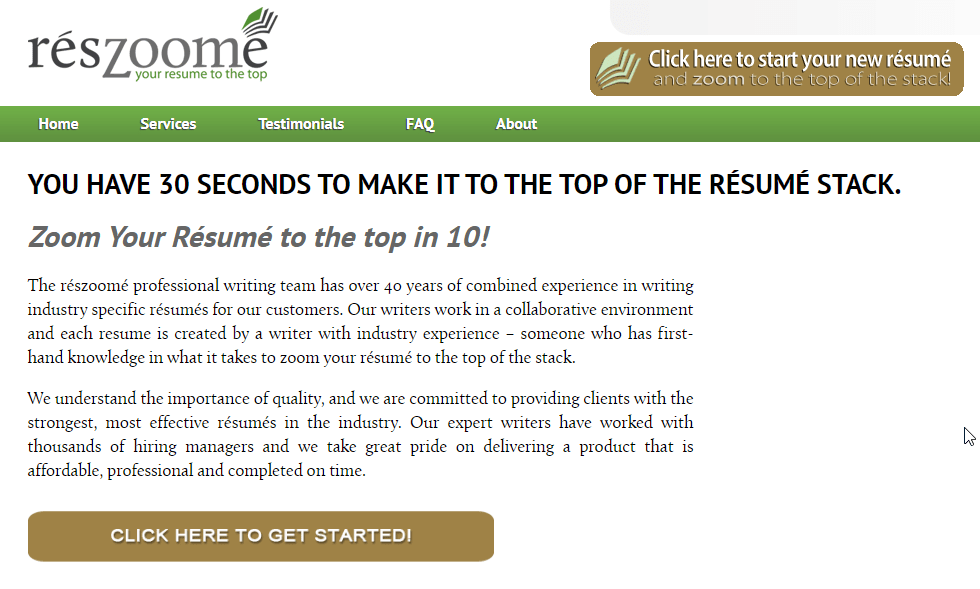 When the client tries to place an order, they are taken to another website: TopResume.com. That's a rather popular website for resumes, but it's definitely not the best one. At the order form, you don't get an ability to choose any extra features.
That's the weirdest part of our Rezoome review. We don't get the point: why does this writing service prompt you to place an order at another website?
Services Offered
Rezoome offers a few different types of services:
Professional Growth Resume Writing Package: it's a simple entry-level resume and nothing more. You don't get an interview guarantee with this option.
Career Evolution Resume Writing Package: You get a resume, cover letter, and interview guarantee with this one.
Executive Priority Resume Writing Package: You get one of the top writers from the team to work on your resume. You also get a cover letter, interview guarantee, and LinkedIn makeover with this package.
Professional LinkedIn Service: You get editing on your LinkedIn profile.
Professional Federal Resume: This is a simple resume for those who apply for federal jobs.
Professional Military Resume: This is a specialized service for veterans who are looking for civilian jobs. A writer can help them translate their skills to the needs of civilian careers.
Professional Academic CV: It's a job application document for career in academics.
The list of services is good. The only problem is that Rezoome is not the agency who delivers these services. It redirects you to another website.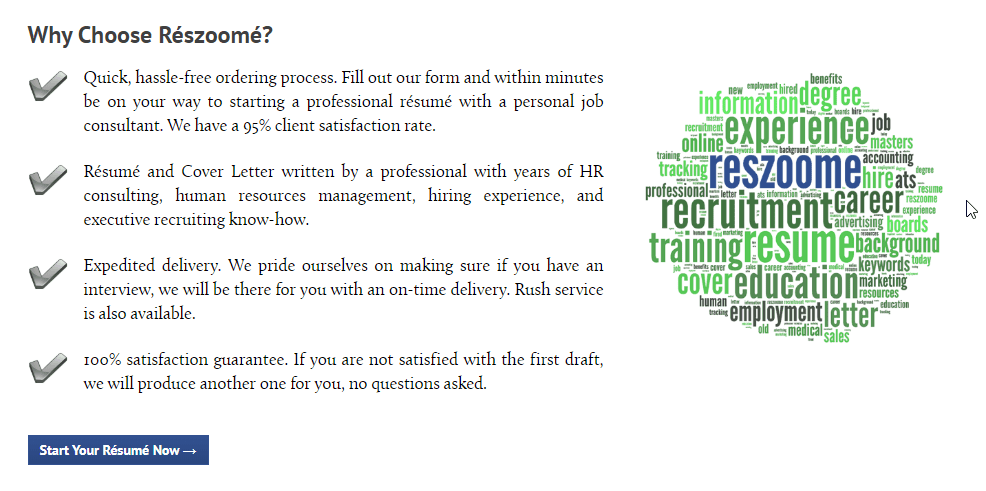 Prices and Discounts
Depending on the customer's experience and industry, they will choose a package that answers their needs. The quotes are relatively affordable. The Professional Growth Resume is the cheapest option – $99. The most interesting thing is that if you order through Top Resume, the same service costs $149. You're getting the same work from the same service for a cheaper price. This makes less sense as we continue with the review.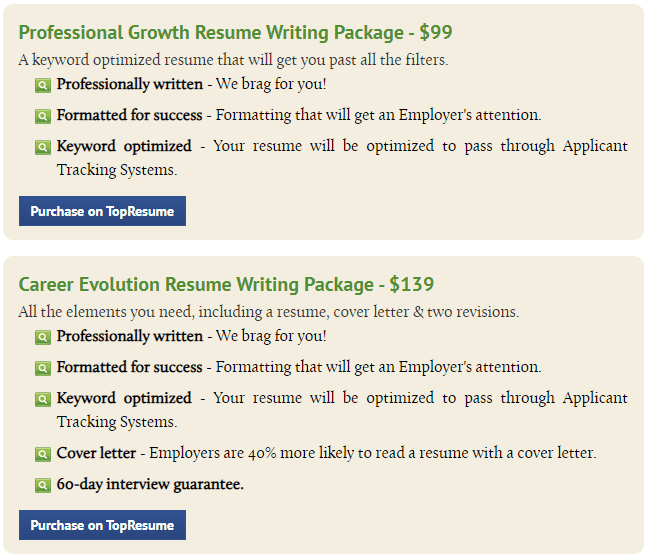 The most expensive services are the Professional Academic CV and the Executive Priority Resume Writing Package ($219 each).
If you were getting good quality for this price, it would've been affordable.
Discounts are not available at the website. Occasionally, the company launches coupons through Groupon. However, when you try to place an order through the website and it takes you to TopResumes, there's no place in the order form where you can enter a coupon code. As we said, the service is making less sense the more we review it.
Customer Service
There is no way to contact the support here. Do you know why? – Because there is no support system whatsoever. They don't provide an email, there's no form to fill in and get connected to the team, and there's definitely no live chat.
Since you're basically ordering from another service, you can try your luck with the support system there. But Top Resume is not known for easily solving issues.
If you place an order at Reszoome.com, you'll be left in the dark. You'll keep wondering if the writer would deliver the content by the deadline. If the deadline is missed, you'll fail to submit the job application on time and the hiring process will begin without you being considered.
This service is part of many associations of resume writers. That's its way to impress you. But it fails to provide basic support, which even the worst resume writing services must have.
Website Usability
We found a few Rezoome reviews that complained about the site's usability. We had a similar experience. It's nice to have transparent prices and a good list of services. However, when you're taken to another website to place the actual order, things are starting to look shady. When you have no way to contact the support, you get suspicious: is this a real writing service or are they trying to trick me into something?
We tested the company and yes; they do deliver resumes. However, the quality of the content is low and they don't provide reviews with every type of order.
Summary
In summary, the service doesn't work well. We'd be happier to see an individual writing service with its own team. Here, we see a site connected to another website of shady reputation.
Pros:
Transparent prices
Versatile list of services
Affordable offer
Cons:
Reszoome doesn't have its own writing team
The quality of resumes isn't good
You get NO customer support