When a resume writing service presents itself through a nice website, it instantly gains your sympathy. Craft Resumes is one of those services. The website is nice and easy to navigate through. The company guarantees to sell high-quality content written by experienced writers.
If you search for Craft Resume reviews, you might get confused. Some of them are extremely positive, and others are quite negative. This is a relatively new service in the industry, so it definitely needs more evaluation. That's exactly why we decided to test the service and share our Craft Resumes review. We evaluated different aspects of the service. Read on to find out more.
Overview
Foundation year: n/a
Prices: from $139
Discounts: Yes
Deadline: from 24 hours
Guarantees: interview invitation guarantee
Special Features
When you scroll down the homepage, you'll notice an interesting option in the menu at the bottom: Our eBook. Yes, the company offers a 37-pages long eBook called Get the Job of Your Dream in 6 Days and 6 Simple Steps! That's a nice touch. You can get the eBook on Amazon, iTunes, GooglePlay and other sites, but it's not free. Given the fact that the top resume writing services offer free tips on their blogs, paying for an eBook doesn't seem like an attractive offer.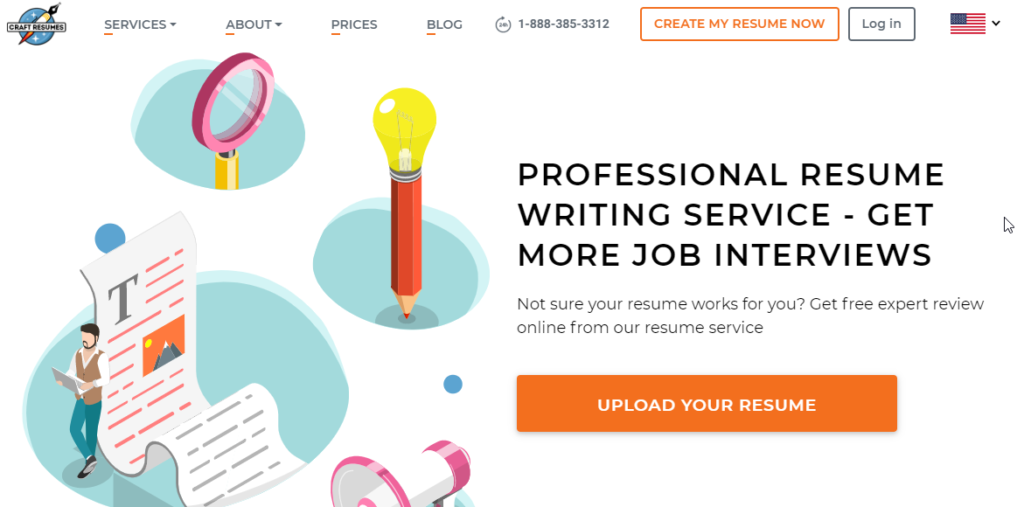 There is a blog at this website, too. However, it's not focused on giving you tips on the job hunting process. It's all about the benefits of hiring a professional resume writing service (of course they recommend themselves). You get few samples and tips along the way, but the salesy approach might get on your nerves.
Services Offered
There are 4 main types of products promoted at the website: resume, CV, LinkedIn profile, and cover letters.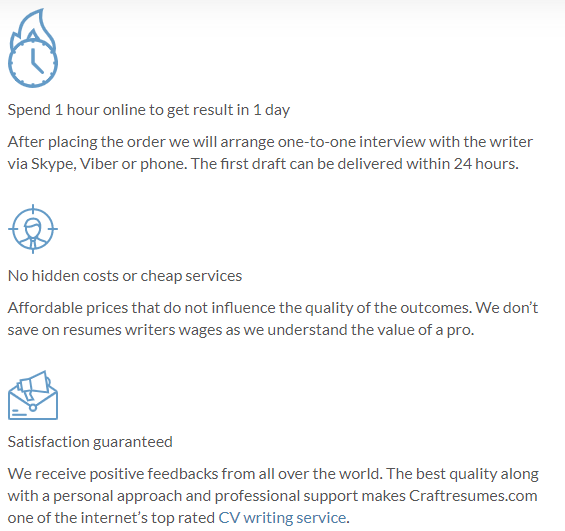 With the professional resume service, you get a completely unique resume tailored to your needs. The process of ordering is simple, but efficient: you fill in a questionnaire and get an interview with the writer. They promise to deliver the first draft in 1 day. Then, you'll have 4 days to request revisions. If you miss that deadline, you won't be able to get your money back. CraftResumes.com doesn't tell you how much time the writers take for revisions. Since there's no guarantee in this aspect, you're at risk of getting the final version of your resume later than expected.
In addition to the resume writing service, Craft Resumes also offers resume editing help. Professional CV writing and editing help is also available. If the job ad specifically requested for a CV, then you'll be making a huge mistake by sending a resume. Make sure to order the exact type of product you need for the application you're planning to submit.
As for LinkedIn profile revamping, you can get that service, too. You can combine that service with a CV, resume, or both, so you'll get a discounted price.
The team of writers also completes cover letters. They promise these cover letters will boost your chances to get noticed through an Applicant Tracking System.
The list of services at this website is not very extensive, but that's a good thing. It's a company that's strictly focused on providing resumes and related services.
Prices and Discounts
It's always nice to see a resume writing service with a clear pricing system. With CraftResumes.com, you know exactly how much a resume, CV or LinkedIn profile costs. If, however, you need a cover letter or editing services, you'll have trouble finding the clear price.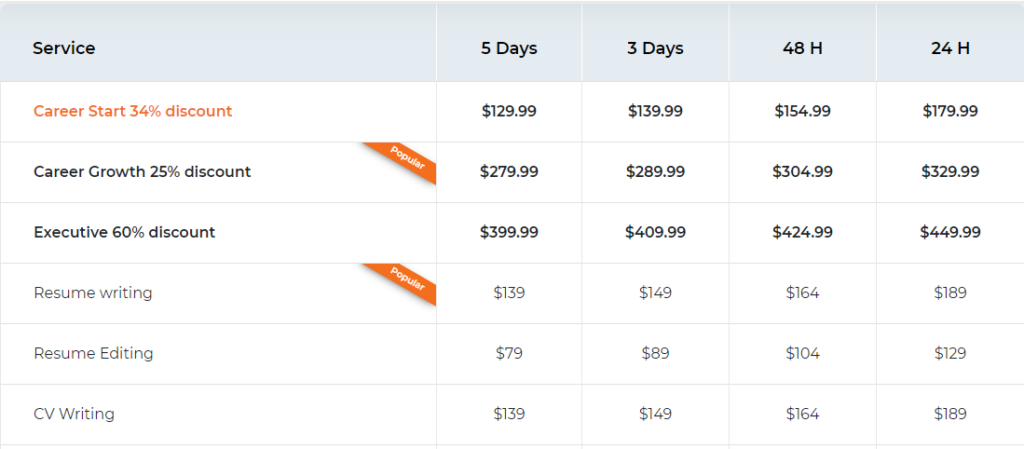 The only problem is: the prices are higher than expected. We've seen the finest resume writing agencies on the market offering prices cheaper than this. So this is not the most cost-effective service you could hire. Still, the quality is pretty good, so the decision is up to you.
A resume will cost you $139. The level is not clear. The company does not specify whether or not it sets different prices for entry-level and executive-level resumes.
CV writing costs $159.
You can get LinkedIn profile writing for $79.
If you're looking for a Craft Resumes coupon, you'll be disappointed. The prices are already stated at the website and there's no sign of discounts. However, there are convenient packages of products, which save you money:
The Resume Start package is intended for recent graduates with no experience. It costs $188 and it includes a resume and cover letter.
The Resume Pro package, which also includes a resume and cover letter, is for job candidates with 2+ years of experience. It costs $278.
The Resume Executive package (resume + cover letter) is for applicants with 10+ years of experience. It costs $388.
You can get a CV + LinkedIn profile for $228; Resume + LinkedIn profile for $208, and Resume + CV + LinkedIn profile for $367.
There are few other packages promoted at the website, but it's still not clear how much editing costs. For those quotes, you have to access the order form.
Customer Service
The customer support is available 24/7 via live chat. You can contact the agents before you place the order, so you'll get clarifications about the prices and ordering process. It doesn't hurt to ask them for a discount, but don't expect a positive answer to your request. There's no option to include a coupon code in the order form.
The representatives will remain available after you place the order. If you have any Craft Resumes complaints, you can easily contact them. In addition to the live chat, the service also gives you a phone number and email address as contact options.
Authors bio: Isabelle Walden is an experienced HR and career development expert. She has been working in this field for over eight years. Isabella knows the exact requirements companies usually put forward when searching for employees, and which resumes will help job seeker quickly find a job.