Monster is different kind of resume service available in the market. While most of the other resume writing services would help you to write and design a new resume, Monster acts like a platform where employers and employees can meet together. Rather than writing a hand-crafted resume, they would give you a monster resume builder.
Yes, resume builders are quite helpful when it comes to creating a resume in a jiffy, but can never give you the satisfaction of true resume where you can make thing personalized. It follows a cookie cutter method that would probably help pass the ATS but it's not what you should looking for if you have a plan to seek $50,000+ salaried jobs.
Special Features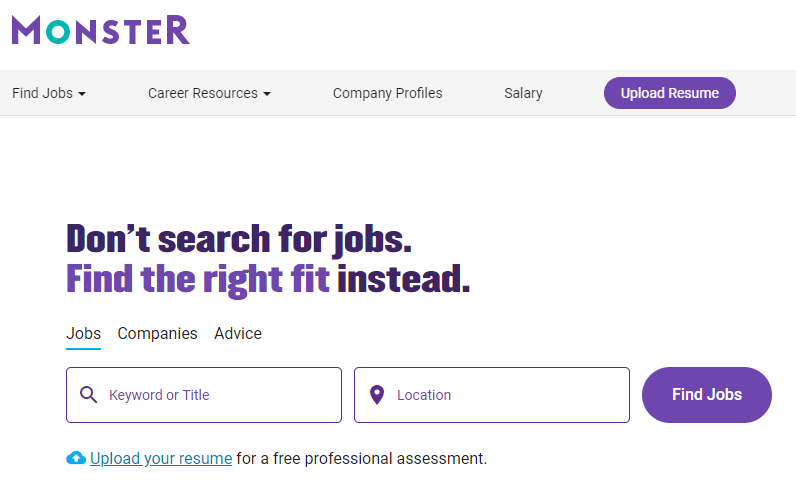 Monster.com has tons of features that make them quite special among its peers – we can vouch for that. It's a platform where you can find jobs through advanced searches and even and browse by category and industry. Then, there is the career advice section where professionals would suggest you on your career choice and planning.
Finally, there is the resume builder that a lot of people loves while a lot of people hates.
So, those were the good things, now let's talk about the bad things about the service. Here, you will have to pay for a cookie cutter resume service which will be looking like all the other resumes they create – there is no specialization or personalization. The design of the resume would look like as if it were coming from a resume making factory!
So, the decision is up to you whether you would want such kind of service or not.
Services Offered
As you know by now, monster resume service has a different approach when offering services to its clients. It works from both fronts to balance the marketplace. So, here's what you can expect from them when it comes to offering services:
Job Finder
Career Advice
Resume Writing Services
Finding Companies Based on Location and Industry
Finding Companies Based on Salary
So, you see, helping out with resume is not their main service, they prefer to work like a "match-making platform".
However, monster resume services can help you out with custom resume writing too. They have three different resume writing packages:
Basic – helps with resume only
Deluxe – helps with resume and cover letter
Premier – helps with resume, cover letter, and LinkedIn makeover
While other companies offer different packages for entry-level, mid-level, or executive-level employees. Here, you can get only one level of expertise.
Price and Discounts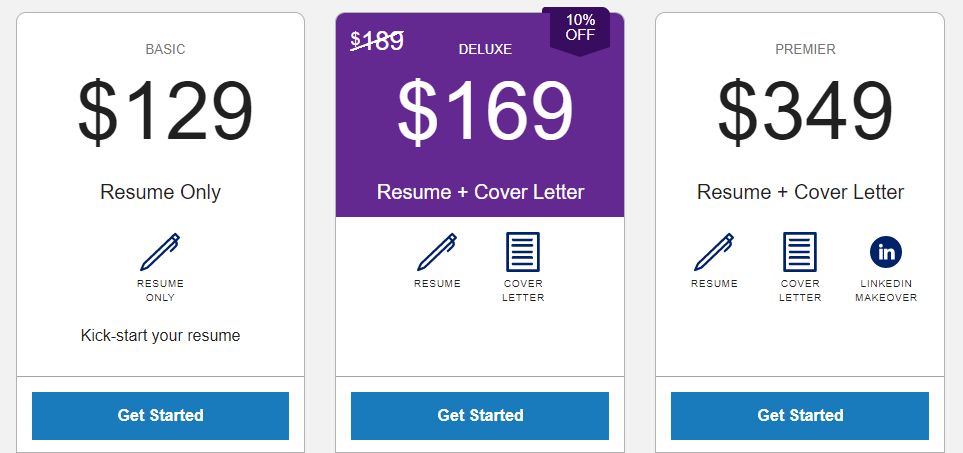 So, let's talk about the monster resume writing services review of the pricing now. It might sound like a relieve that the packages from Monster is fairly cheap. In fact, they are one of the cheapest resume writing services out there. However, we want to include that the pricing we would be discussing here are specifically for the custom resume writing services, not the other ones.
Check out the following table to get an idea about their pricing policy:
| | | | |
| --- | --- | --- | --- |
|   | Basic | Deluxe | Premier |
| Price | $129 | $169 | $349 |
| Features | Resume | Resume + Cover Letter | Resume + Cover Letter + LinkedIn Makeover |
All of these packages have the 100% satisfaction guarantee. They will not refund your money but will make a revision for free.
As we have mentioned already, resume writing is not their special trait. Maybe that's why their resumes turn out to be a bit bland. The resumes seem a bit "texty". If a recruiter checks out the resume at a glance, he or she cannot concentrate on specific things.
After scavenging through the whole website, we could find only one discount in their website. They offer a 10% discount on the Deluxe resume writing service as it is their highest selling resume writing package. If you are looking for redeeming a coupon code, we have bad news for you.
Customer Support
Regarding customer support, we have both good and bad news for you. The news is that Monster has all the modern ways of maintaining communication – phone calls, live chat, and email. They have a strong team of customer support professionals too.
The bad news is that, they would start spamming your mail with unnecessary mails afterwards. A lot of their users have suffered from this unhappy situation. You might be considering how to delete resume from monster too!
Moreover, they focus on other services often too much rather than the resume writing services. Maybe, it is what happens when you take service from a company who offer versatile services. A lot of the services could be unnecessary for your needs as per a lot of monster resume service reviews.

Website Usability
Monster's website is a mix of a different services combined together. You might be having problem finding your desired services among all of them. For example, if you are looking for the monster resume writing services specifically, you will have to go to the Career Resources sections and then select the Resume Writing Services. The website mainly, focuses on being a platform where you can search for jobs and the recruiters can post jobs.
So, the resume services are not their primary focus, you can it secondary or even tertiary service. The website looks cool and funky, but in terms of usability and UI design, it could have been better.
Summary
So, we are on the finishing section of our Monster resume review. There are a few good things about their services like – a platform where you can search or post jobs based on location, search the companies looking for fresh minds, and also get a resume written. The negative side of their service is that the resume writing is NOT their primary service and you would average quality resumes which are mostly cookie cutters.
Authors bio: Isabelle Walden is an experienced HR and career development expert. She has been working in this field for over 8 years. Isabella is well acquainted with what requirements companies usually put forward when searching for employees and which resumes will help job seeker quickly find a job.