Resume2hire.com doesn't have a simple service that's delivered within a set timeframe. They actually have a process. This company sounds more legit than any other we've reviewed because of the way they deliver the resume and other services.
Instead of just sending you a finalized product, they send drafts for you to review and are open to making changes, free of charge. There's much more to the packages of Resume2hire.com than just simple resume writing, which is a great starting point for this review.
Overview
Foundation year: 2008
Prices: from $99
Discounts: No
Deadline: from 5 days
Guarantees: free revision
Special Features
To check what Resume2Hire does for their customers, you get a shot at looking at their seven resume samples. The number is limited, but these samples are perfectly enough to provide you with the picture of what format and type of work you can expect.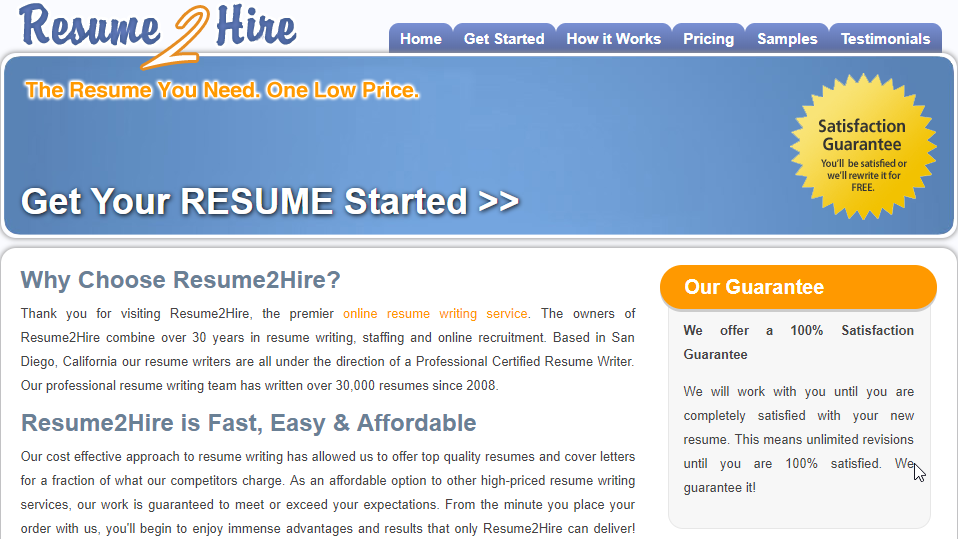 On top of the services we'll be discussing shortly, there's the special offer of reviewing your resume with the opportunity to ask for changes. That's the part that customers seem to most like about this company and we must admit, it sounds quite safe and appealing.
Update: Resume2Hire is the partner of Topresume.com now.
Services Offered
Basically, there are two major services offered by Resume 2 Hire – resumes and LinkedIn profile help. The resumes come in three different package options: professional growth resume, career evolution resume package, and executive priority resume package. The LinkedIn service is also offered.In these three packages there are different features and products offered for customers.
For example, the first resume package, professional growth resume, includes only resume writing and formatting until you are satisfied with the final product. The Career evolution package includes a resume and a cover letter, as well as a 60-day interview guarantee. And finally, the executive priority package includes all the features from the previous packages, plus a LinkedIn makeover and the expertise from one of the 10% top writers of the company.
Prices and Discounts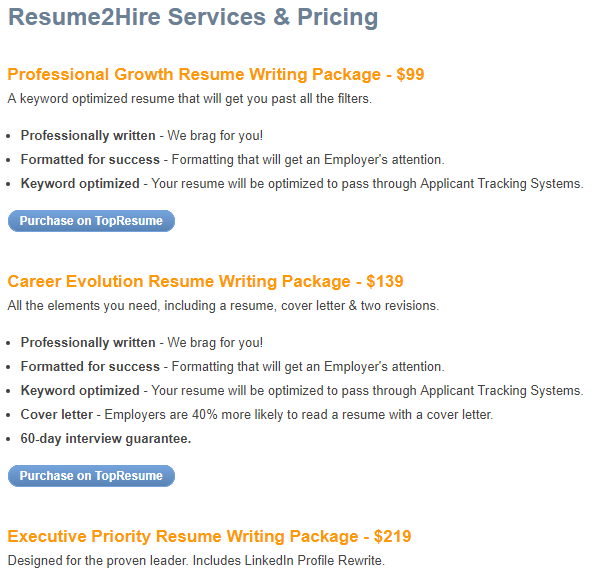 You can only choose to buy packages, which concerned us at the beginning. Packages are usually much more expensive than a single resume service, but not here. At resume2hire.com, even the packages are fairly priced.
For example, the simplest package with the resume included costs $99. If you wish to receive it earlier than the set deadline of 5-6 days, you'd have to pay more for it. The career evolution resume package costs $139, while the executive priority resume package costs $219. Finally, their LinkedIn profile package costs only $75.
It is safe to say that the rates of these packages are cheaper than the rates of separate services in most company, especially if you are looking at the rate of the first package. The most expensive package includes everything you need for an application with all the guarantees and safety precautions you can have. There's hardly a resume service who actually guarantees interviews and free revisions, but this one is known to do exactly that.
Thanks to the offer for formatting the resume until the customer is fully satisfied with the product, many seem to boast with the work done by the writers in this company.
At this moment, there aren't any discounts. Some testimonials spoke of occasional, limited-time discount offers on the given rates, so you might get lucky when you actually need your resume. But, even if you don't, the pricing at resume2hire.com remains quite competitive when we compare it to other reviewed top rated resume services.
Customer Service
The customer service part is the one where this service disappointed us. There's no live chat that you can use to ask questions, so their FAQ section would have to suffice. However, we've learned that once you order, you can communicate with them regularly. This is excellent news since the company promises to format the resumes until you actually like them, so this feature certainly makes all that possible.
Except for the slight disadvantage with regard to the customer service and no discounts, we can't say anything bad about resume2hire.com. It's a popular and fairly priced resume service. Their packages include different products and cost less than you'll have to pay on most sites like this one, and the quality is praised by many happy customers.
Authors bio: Isabelle Walden is an experienced HR and career development expert. She has been working in this field for over 8 years. Isabella is well acquainted with what requirements companies usually put forward when searching for employees and which resumes will help job seeker quickly find a job.