Before we heard of Zipjob, we never knew that this website existed. This isn't strange because the number of resume companies grows every day. The demand is big. More and more people choose to pay for help from resume experts to increase their chances at landing a job interview.
At a first glance, the site of Zip Job looks like any other website that sells resumes. It has a professional, appealing website design. However, after reading some of the Zipjob resume reviews from customers on reliable websites like Reddit, we learned that not all is as it seems on the site. The service has a seriously high number of bad Zipjob reviews, which makes it even more important for us to check their features.
Overview
Foundation year: n/a
Prices: from $139
Discounts: no
Deadline: from 3 days
Guarantees: interview guarantee
Special Features
One of the special features on the site of this company is the interview guarantee. They don't guarantee that you will get one, but if you don't and you can prove it, they'll make a revision. However, the waiting period for this is 60 days, which is more than most companies provide in their guarantees.
We didn't find much else on special features when we researched for our Zipjob resume review. They also claim to have an ATS screening that they perform on your resume to make sure that it passes. Some employers use this, so it can be considered a benefit.
Services Offered
We must say, we are disappointed by the service range at zipjob.com. Not only do they have three options, but they only have packages. Plus, they seem to have some additional prices and actually recommend that you speak to a member of their customer support before you order. This beats the purpose of the price list and makes ordering here risky. We recommend checking with the support before you make an order.
In terms of those three services, this is all you'll get at the service:
A launch resume package (resume, keyword optimization, 1-on-1 communication with the writer, and unlimited revisions). Interestingly, this part doesn't really fit their information about communication with writers presented later on the same page, which says that only premium orders get this opportunity.

Fast track resume package (resume, cover letter, 60-day interview guarantee, as well as the features offered in the launch package). This also means that with the first package, the guarantee isn't available.

Premium resume package (a combination of all the features above plus a LinkedIn update, future resume update, expedited delivery in 3 days, and work done by one of their best writers).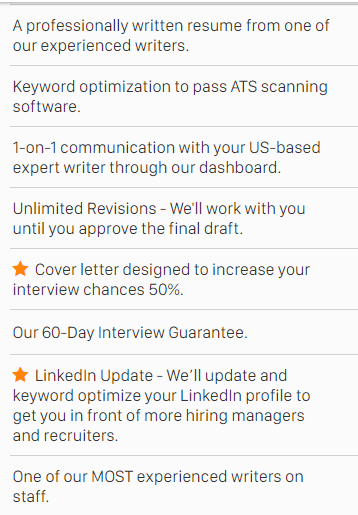 Prices and Discounts
The prices are per packages, but we seriously recommend that you check before you order. We found a statement that said there are additional costs for CV's, federal resumes, as well as resumes that are longer than four pages.
The packages are highly priced, which makes this zipjob review slightly negative at this point. Compared to some others we've reviewed, even more popular than this one, zipjob.com is significantly more expensive. The cheapest package is $139 and is delivered within six days. This one isn't really a package since you only get one product – a resume, and it doesn't come with a guarantee. Without any discounts, the price is definitely higher than most would expect.
The two remaining packages cost $179 and $299, which is once again, a very high quote.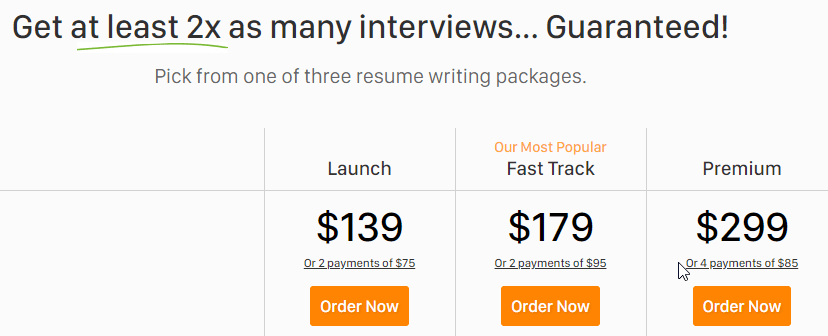 Customer Service
We spoke to the support, but reaching them was hard. It takes a lot of time to get in touch with this service, but we'd still recommend the wait since it is the only way to make sure you won't be charged more from your card.
You can only reach them on phone during their work hours, which are 9am to 6pm EST. Even then, they didn't pick up on several occasions.
When an agent finally did, we spent even more time waiting for him to find the answers. He was completely and unbelievably uninformed about the company he worked for. It was so strange. We asked a couple of things and thankfully, for our order, the cost was as is stated on the website.
Website usability
The website is usable, but it contains strange information and data that requires further explanations. We checked everything for this free resume review, and at this point, we can tell you that the service doesn't really state their offers and prices clearly.
Despite the good appearance of the website, it's still a very vague one in terms of information.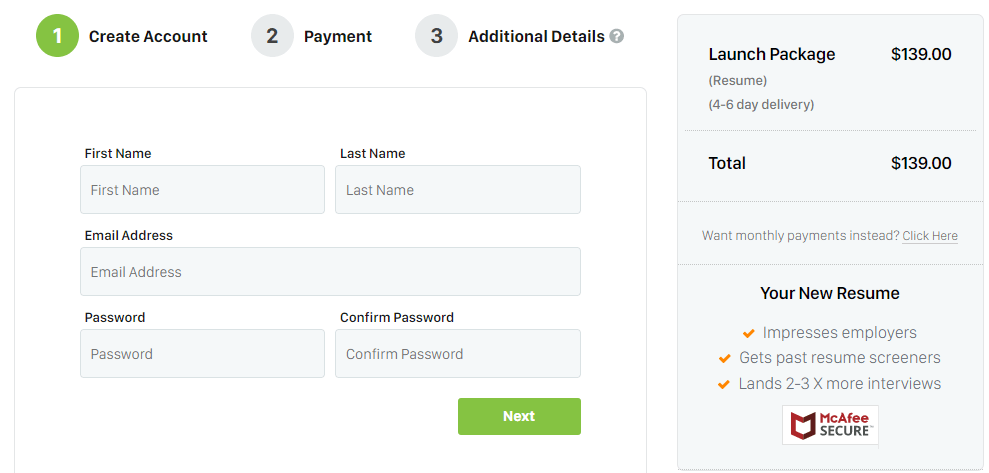 Summary
In summary, Zipjob.com is a legit service, but this doesn't make it a good one. In fact, they have hidden fees that, if you don't read all the content on the website, you'll be charged without knowing. And that's not all. We were not at all happy with the outcome and our resume. The support turned out to be really uninformed and hard to reach, while the prices are awfully high.
Authors bio: Isabelle Walden is an experienced HR and career development expert. She has been working in this field for over 8 years. Isabella is well acquainted with what requirements companies usually put forward when searching for employees and which resumes will help job seeker quickly find a job.