Careers Booster – the name of this service speaks for itself. This team has helped many job applicants to go through the hiring process successfully. The resume, CV, cover letter, LinkedIn profile… all these details make a huge difference for a candidate.
If you start looking for Careers Booster resume reviews online, you'll notice that most of them are positive. We decided to review the service, so we can see if all those Careers Booster resume writing reviews are true.
The website is clean, safe, and reliable. The prices are affordable, but you also get a Careers Booster discount code. Those are not the only positive aspects of the service. Read on to find out more.
CareersBooster.com Review
Special Features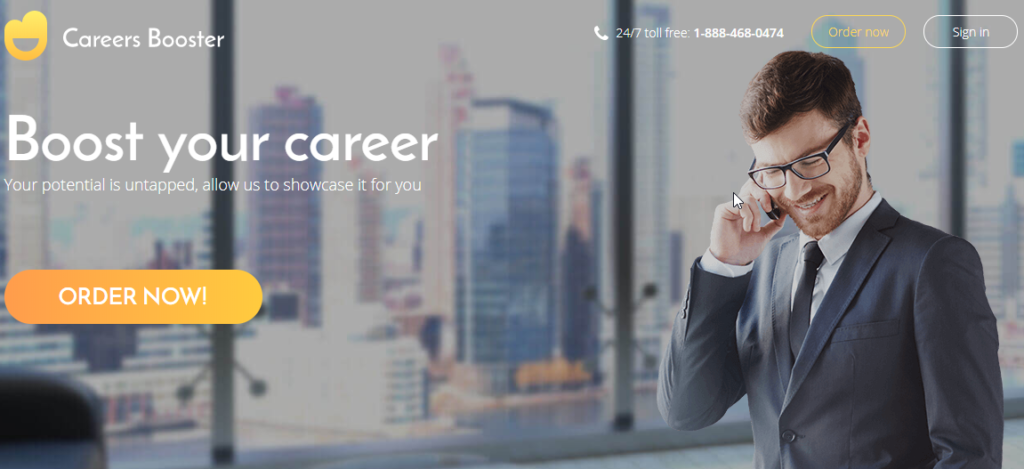 You'll notice a very important category at the website – Samples. These are free of charge. If you want to write your own resume, cover letter, or any other job application document, you can download a sample to see how it should look like. You can follow the format and get inspired by the content, but remember: it's never okay to copy a resume you find online.
You can also go through the samples to figure out what type of resume you want to order, so you'll include that request in the guidelines for your writer.
There are other special features this company includes in its offer: KSAs (Knowledge, Skills, Abilities), resume distribution to employment agencies, e-cover letter, thank-you/follow-up letters.
Services Offered
The range of services at CareersBooster is quite versatile. This is a specialized service for job applicants. It offers all types of content they need. The most common service the customers need is Resume Writing. When you order this product, you'll get a unique resume written from scratch. You'll have direct communication with your writer via website messaging system, so they will get all information needed for the resume.
In addition to resumes, you can also order a CV and cover letter. Some employers prefer CV because it's more structured and easier to review. It's also more difficult to write. It doesn't leave much space for creativity, so it can easily turn out dry and lifeless. The writers from this service can complete the perfect CV for you.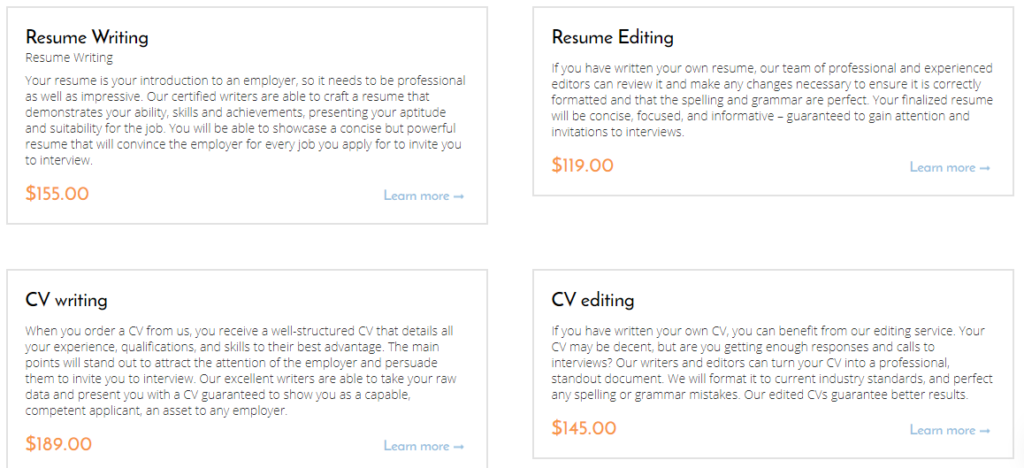 The resume, CV, and cover letter are the main types of job application documents. The company's offer doesn't end there. The writers also craft thank-you and follow-up letters, as well as LinkedIn profiles.
If you already have a resume or CV, you can get them reviewed and improved through the company's editing services.
Careers Booster also offers packages of services:
Resume + Cover Letter Writing
Full package: Resume + Cover Letter + ThankYou/Follow-up Letters
Resume + CV writing
CV + Cover Letter Writing
CV + Cover Letter + ThankYou/Follow-up Letters

They also have great packages with discounts for those, who need to update or even to create from scratch a LinkedIn profile:
Resume + LinkedIn Profile
Resume + LinkedIn Profile + Cover Letter
CV + LinkedIn Profile
CV + LinkedIn Profile + Cover Letter
If you order a package, you'll get a great price for it.
Prices and Discounts
When you check the price chart at CareersBooster.com, you'll realize this service offers more affordable prices than most other high-ranked resume writing agencies. The quality, however, is still very high. No matter what product you decide to order, it will be written by certified writers with utmost level of professionalism.
You can place an order with urgency of 5 days, 3 days, 48 hours, or 24 hours. This is a very important aspect of the service. Most other agencies don't allow you to set the deadline, and it usually takes more than 5 days when you're dealing with them. With Careers Booster, you'll get the document whenever you expect it.
There are six levels: Entry, Professional, Career Change, Executive, Military, and Federal. Be careful to order a resume of the right level, so it will fit the expectations of your potential employer.
A Resume of Entry level costs between $155 and $225, depending on the deadline. If you want a Resume of Executive level, it will cost you from $215 to $285.
A CV for Entry level costs from $189 to $249. For Executive level, the CV costs from $225 to $299.
The Cover Letter for Entry level comes with prices of $55 – $95. For Executive level, it costs from $85 to $125.
A package of Resume + Cover Letter comes with prices of $179 – $275 for Entry and $255 – $349 for Executive level.
A package of Resume + LinkedIn Profile starts with prices of $215 – $305 for Entry and $305 – $405 for Executive level.
As you can see, the prices are quite reasonable. You get 15%, or 20% off when you order a package. Plus, Careers Booster gives its customers discount codes that reduce the price of any product.
Customer Service
The customer support system at CareersBooster works 24/7. Whenever you have questions or you want to get updates for your order, you can contact a representative via live chat or phone. The writer is also available to answer your questions and receive more instructions. The communication with the writer is the foundation of your order's success. Make sure to stay available, so you'll answer their questions.
Sample