Who doesn't want to get great resumes fast when one sees a job opening in his or her dream company? That being said, not everyone has terrific penmanship. To help them out, GreatResumesFast.com is offering help with resume writing at affordable pricing. However, it doesn't mean that you should take their services. You should always look into an online-based company before you make your mind and go for taking their services. So, let's take a look into them now in this Great Resumes Fast review!
GreatResumesFast.com Review
Company Overview
On first glance, you will fall in love with the website. There are a lot of mentions of some of the industry giants in the first banner on the site. We are talking about companies like Forbes, Time, Money, Fortune, HuffPost, Fast Company, and so on. Before you get too impressed, you should verify these claims.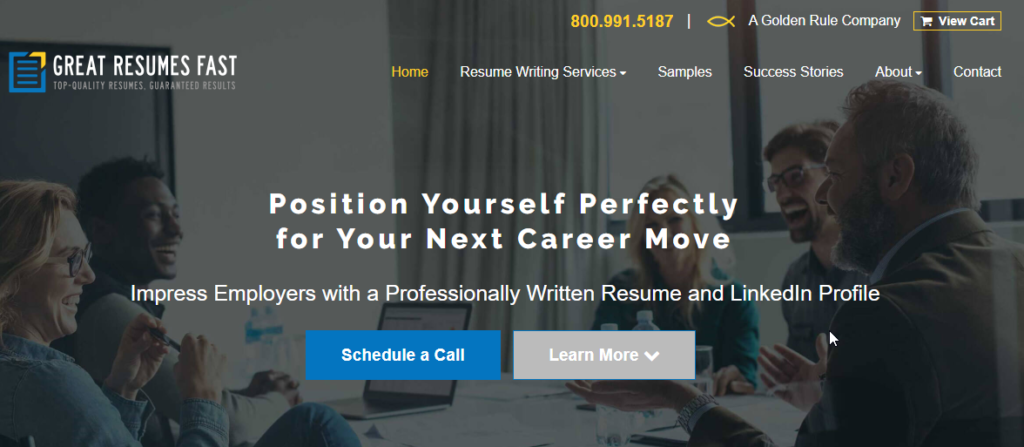 The website is quite impressive with loads of testimonials and reviews from TrustPilot and Google Reviews. So, after the first glance, you can find the company to be intriguing. There is no issue with the website or the website's design or UI.
However, they are giving too much information about how reliable the company is or how so many big companies are putting their trust on GreatResumesFast. They should have given an idea about what kind of services one can expect from them, the pricing, etc.
Special Features
After going through their website over and over again, we think their unique feature is to give C-Level resumes. By C-Level resumes they mean, the "Chief" level staffs like CEOs, COOs, CTOs, CFOs, CSOs, etc. These resumes require vast experience and needs and bit more finesse than writing any Average Joe's resume.
Then, they are promising that their resumes can pass the ATS and they know all the essential keywords that might create interest of the recruiter managers.
So, if you think about it, GreatResumesFast is not offering out of this world. Almost all the resume writing services can do all these things for you. That being said, if you are looking for something really "special," there is nothing too special that we can talk about. They are like every other resume writing service you can find online.
Services to Look Forward to
As we have mentioned already, their specialty is writing resumes. They claim to a fantastic job with the resumes for level jobs for the executives and top management too. Other than writing resumes, they can help you with your LinkedIn profile which almost all the resume writing services offer these days.
Although, they have a few unique services like:
Recruiter distribution
Circulating proposition letters
Networking power letters and
Giving updates on the resumes
Honestly, we were expecting some other standard services from them like CV writing, resume editing, or cover letter support. These are such essential services that we can hardly imagine any resume writing service without these basic options. The samples don't even look that much out-of-this-world.
Their target client base comprises of the following professionals:
Mid-level professional with 3+ years of experience
High ranking executives
C-Level giants
IT professional of 2+ years of experience
Military personnel seeking civilian jobs
Entry-level professionals or freshers
Pricing and Discounts
This is the part where GreatResumesFast fails to appeal to the customers. Yes, we know that their customer bases are mostly targeting high-level professionals who are willing to spend tons of money. But they should think about entry-level professionals too.
Do we sound too confusing?
Let us make things clear. A simple professional resume from GreatResumesFast costs about $799!
Check out the following table to understand their policy as their website don't have pricing in one place:
| | | | |
| --- | --- | --- | --- |
| Service Category | Basic | Premium | Platinum |
| Regular professional | $799 | $1199 | $1799 |
| Executive | $899 | $1299 | $1599 |
| C-Level | $999 | $1499 | $2999 |
| IT Professionals | $799 | $1199 | $1899 |
| Military | $695 | $795 | $1195 |
| Freshers | $595 | $995 | $1595 |
So, what do you think? We think it is safe to say that the service is not designed for all kinds of people. Even fresher's resume can cost up to $1595! Moreover, the pricing doesn't include some essential additional services like thank you a letter, reference sheet, distribution service, or networking letters. You will have pay additionally. Even all the Great Resumes Fast reviews are saying that they are too pricey.
By the way, they don't offer any kind of discount or coupon code either!
Customer Service
Well, it would be unfair if you get below-standard customer service, after paying that much for a resume! They have a great team of professionals to handle the customers' queries. You can call them directly or live chat on the website.
However, we cannot say that we were delighted with their customer support. Their customer support team has a tendency to be a "pushy." While we were asking them about their services, the support executive always pushed us by asking what service we want to order and when are we planning to order, etc.
Website Usability
They have an average quality website. We can't complain about the site but won't say it the best website in this niche either. There are a lot of jaw-droppingly beautiful websites out there. We think we would use the word "so-so" to describe the quality of the website usability. However, they should have added a separate pricing section so that the customers can check and compare the pricing of the services.
Final Thoughts
So, now it's time for the final verdict. In one word, we can call GreatResumesFast to be expensive. Sure, they have a special department to cater to the needs of top-level professional, but the pricing is undoubtedly too high for an average person. We don't have another Great Resumes Fast complaints other than this. There are a lot of great companies who can give dazzling resumes without making you "break the bank."
Authors bio: Isabelle Walden is an experienced HR and career development expert. She has been working in this field for over 8 years. Isabella is well acquainted with what requirements companies usually put forward when searching for employees and which resumes will help job seeker quickly find a job.